Amazing Animal Art at Zazzle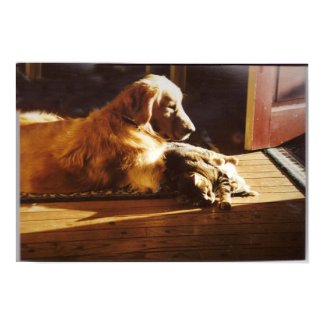 I just discovered a great site for finding pet themed gifts and art.
It is called Zazzle and it is an online gift store with a twist. While you can find the usual Disney and the Hallmark products you can also find thousands of beautiful art and photography based designs from artists and designers all over the world. The lovely picture of a Golden Retriever lying in the sun with his feline friend is an example of the quality you can expect. It is from the 'My Kids Have Four Legs' gallery by Norma Golden.
What is more… you can design your own gift or stationary without having to buy in the bulk required by local printers. Zazzle stands by the quality of the work they send out and have a hugely happy customer base.
The beauty of this is that animal lovers have a far wider range of products to buy from than usual as often brick and mortar stores do not buy in a large variety of animal-themed products and dog and cat designs tend to be relegated to the 'cutesy' department and buried in stores somewhere behind last year's Bratz doll.
Even better, while there may not be the minimum 200 (or whatever your local printers requirement is) people who would love a t-shirt or card featuring your mother's poodle, you can bet your mother would find it the most touching gift ever. The same with that fabulous picture of your daughter and her horse…
As soon as I fell across that site I started Zazzling. I get to play with pictures of my four legged friends and with great pictures taken by other people.
Zazzle costs nothing to join and it has a very welcoming and supportive forum so if you feel the creative bug stirring or you need a special gift please drop by my Zazzle store Four Legged Friends For Life .
There are so many great artists and photographers on Zazzle that deserve a mention that I am not even going to try and do so here.  For the moment I will leave you with a stunning Siamese cat card designed by the talented Jai Johnson.
Siamese Cat Portrait Cards
by
jaisjewels
See more
Siamese Cards